Wish of Abyss Dungeon
Fiyatlar
Fiyat Geçmişi
Oyun Hakkında
---
Become a king and help defeat the Demon King.
Dominate the dungeon Real-time strategy.
> A free training system for over 30 characters.
Characters have unique skills. STR DEX INT Status points can be distributed.
Normal attack type, durable type, skill type, various ways of fighting are possible
Give her a skinship or a gift. If you like it, you will be introduced to a new character.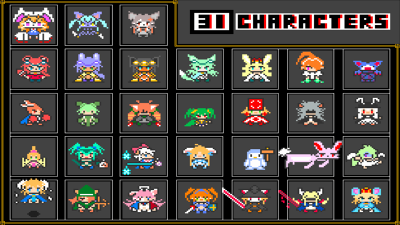 > Find skills, magic items, and unseen artifacts, challenge monsters and traps
> For friends who are not on the battlefield, use assist skill to support them. Let's help with magic.
Magic items have a maximum enhancement value of +9, and artifacts activate their own skills.
Support your adventure by directing your assist skills to magical and non-sorting characters.
> Three game modes
  [STORY] Challenge the dungeon through the main story.
Rabbit adventure episode.
Experience points and rare items in dungeons with evil enemies and traps
  [EXTRA] Character episodes and missions
  There are different special missions to suit the character's episode.
  In the case of Rabbit, the Ninja Kiri will take the Ninja test.
  [ENDLESS] Let's aim for the strongest by forming your favorite organization.
  Place the characters in the avant-garde and rearguard.
  Let's repel the enemies that appear one after another
  Let's arrange it properly with the character who raised the level in the story
********************************************************************
You fought as a hero. Became the king of the Beast Kingdom.
The legend of Abyss that ruined humans at the cost of a wish-Abyss Lord
Adventurers are coming today in search of dreams that can get any wish.
The [anim] that comes to your castle is a humanoid beast
They mixed the two animals.
For example, for foxes and Racoon ... dogs and Rat ... oh!
You see, there's a girl named Rabbit!
A mix of rabbits and hated people girl.
*********************************************************************
Sistem Gereksinimleri
Yorumlar