Umbral Omen
Fiyatlar
Fiyat Geçmişi
Oyun Hakkında
---
A game of signs and symbols where you must use your wits and luck to deduce a shadowy omen.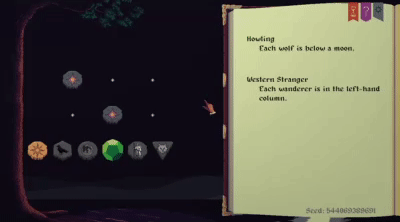 Features:
Randomly generated puzzles that use a different list of clues each time.

A relaxing and cerebral atmosphere, rich with themes of nature and the occult.

A campaign mode, where new modes and modifiers are unlocked as you progress.

Optional, high-pressure speed puzzles, where you must solve an omen with a time limit.

Additional hand-crafted puzzles.

Daily puzzles. Compete against your friends!

Unlock new colour schemes and customise your game's look.
This is a puzzle game with simple rules and strategic depth. Your goal is to figure out which symbol belongs in each space of a grid in the fewest moves possible, but you can approach this goal in many different ways. You might, for example, guess only one symbol at a time. This will give you clear feedback about each guess, but might be slower than making several guesses at once. You might focus on a single type of symbol (such as Sun) or try to clear several at once. There are a number of advanced strategies to discover and master as you experiment with the best ways to solve different puzzles.

The modifier levels will force you to develop new strategies or refine ones you have already discovered. For example, in "Stacking" you may only make guesses on the bottom row at first. This means you need to find ways to quickly gain information with small, localized guesses. By contrast, "One-by-one" only allows you to make guesses with a single symbol until you have found all of it's locations in the grid. This modifier requires gaining information about a wide area quickly, but restricts your ability to gather information about multiple symbols at once.
Sistem Gereksinimleri
Yorumlar