Toy's Paradise
Fiyatlar
Fiyat Geçmişi
Oyun Hakkında
---
Wake up a toy ready to tear the world apart!
Move around the house, trying to tear everything down in a way to gain resources. Use these resources to build more toys, as well as other tools to increase efficiency in pulling this poor family's house apart.
Learn to manage resources, do quests for other toys, as well as level up specific toys in a way to take control of one room of the house at a time.
In Toy's Paradise, you only first start off with one toy to help accomplish the task to tear apart the room. Although as time goes on, your resources allow for the increase of man-power (toy-power?).
▼ 3D Printers
Use the 3D Printer as a way to create more builder toys. Although you will need more plastic to do so...
▼ Increased Builder Toys
With more Builder Toys under your arm, everything is faster; Be that building, breaking objects as a team (increases break speed), or having each go off and destroy their own.
▼ Plastic Generators
Constructing your own Plastic Generators from resources allows you to create plastic every minute, and with the help of an upgrade, that speed can be increased. Create more and more plastic generators to increase the amount every time period. This is important, as plastic is a form of currency. Although this cannot work without the infamous Plastic Converters.
▼ Plastic Converter
These bad boys are basically how you turn the raw plastic into actually usable plastic. Place them in front of plastic generators and instantly witness, for the first time, plastic conversion.
▼ Trading Posts
Trading posts are a great way to gain more resources once you've tuckered yourself out with mining. Place yourself a trading post, and let the resources walk to you... with a price.
▼ Tents
Yes, it is well known in the world that toys don't sleep like us. But, with the amount you are working them, you might as well add that to the lore, because they will need it. More builders can only be made once there are tents added, each tent is an extra builder you can make in the 3D printer.

▼ Hiring Toys
Yep, you heard that right, with the amount of room in this household, there are so many toys that would be willing to work for you; each having their own abilities and skills, different from the default builders.
▼ Influence
What is the point in destroying a household if no toy notices? Well, no need to worry, the toys in each room notice. Each object destroyed out of the overall amount in the room increases your influence on the surrounding toys. Depending on the toy's view on what you are doing, each will either reject your plan or give you deals on hiring based on your influence.
▼ Exploration (COMING SOON)
Once your toy army is big enough, it is time to leave the bedroom... and enter the vast space of the house. Explore rooms, pull it apart, and become the most feared toys the world has seen.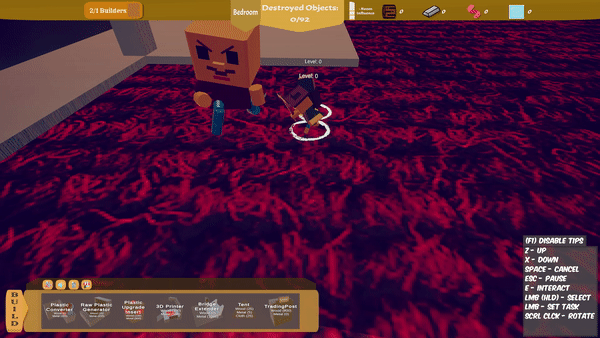 Sistem Gereksinimleri
Yorumlar