ProjectZombieSurvivors
Fiyatlar
Fiyat Geçmişi
Oyun Hakkında
---
Level up, learn skills, and beat those zombies!
Level-based x Wave-based Zombie Shooter
This wave-based zombie shooter is a combination of FPS and RPG.
Players gain experience by defeating zombies and gain skill points as they level up. Use the points to acquire skills and enhance yourself!
As the wave progresses, zombies are strengthened and new enemies appear.
If you fail to kill all the zombies in a wave, the next zombie that appears will be permanently reinforced. You must defeat zombies efficiently.。
Various Skills
27 different skills await you, including increased attack power, increased magazine size, adding a certain amount of defense to attack power....
Attack power is essential to efficiently defeat zombies, but if you neglect defensive power, you may be defeated by zombies in an instant.
Powerful skills require more points, but easy-to-use skills require fewer points.
There are also many unique skills such as one-time revival, ranged attacks when using recovery items, and so on.
Strengthen the skills that suit your play style.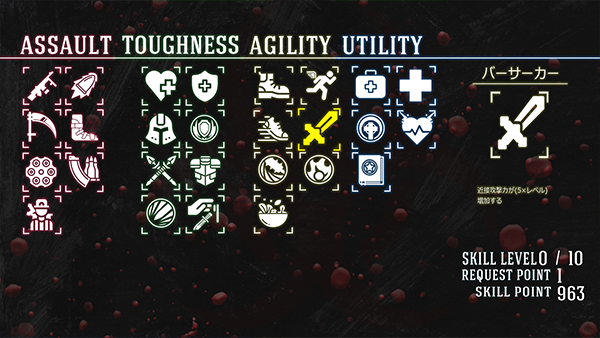 Exploration
Various items can be found in the field, which is lined with unique buildings such as a dimly lit shopping mall, an urban area, a mountain forest with a stream running through it, and a palace.
Ammunition boxes can be found in the buildings and can be picked up to replenish ammunition.
Recovery items and experience crystals are also located in specific areas. Players collect these items while fighting zombies
and collecting these items while fighting zombies to efficiently level up.
Weapons with different performance
Weapons found on the field have different stats.
Some weapons increase attack power more, others increase defense power more, and so on. Find a weapon that fits your style of play.
It is rumored that the most powerful weapon is in the room where you can go after defeating all the bosses...
Sistem Gereksinimleri
Yorumlar