Parabellum Galaxia
Fiyatlar
Fiyat Geçmişi
Oyun Hakkında
---
Parabellum Galaxia is a highly tactical, approachable, 3D Space battle simulator where you command fleets of bespoke ships in VR against AI or Online opposition. The sandbox nature gives players the ability to create their own ships and missions using the inbuilt building tools or you can use premade and community content playing against AI or Online.
The use of newtonian physics and fully modelled ship systems ensures that your newly created ships perform as designed. Facing off against Online opposition both fleets can contain ship and fleet designs neither has seen before.
Adapting your fleet and playing to your fleets advantages are key to dominating your opposition.
Command your Fleet in VR
Command your fleet using the approachable VR interface

Configure individual ship systems and behavior's to maximize their potential.

Even the lightest ship in your fleet is no light weight. Ships carry their inertia and change in directions are not instantaneous. This allows for a heavy tactical feel to your ships where your battle formations may decide whether you are victorious.

Plasma turrets reduce in effectiveness at range, and missiles can be intercepted in-flight meaning sometimes the only way to destroy your enemy is to get in close rather than standing off.

If your fleet is small and fast, hit/run/recover/repeat may be the tactic of the day. Or do you slug it out with your heavy ships against theirs in close range. The choice is up to you.
Design your Ships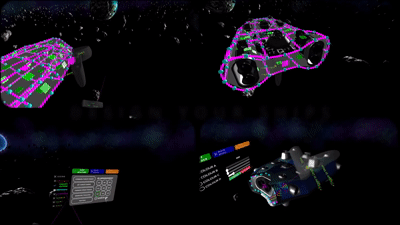 Engineer your own ships using the VR Ship Builder. Shape the outline and size of your ship, place the internal and external components and paint the ship in your own color scheme.

The performance and effectiveness of your designs are automatically calculated for motion, ship and damage systems.

Decide where you want heavy armor and where you need little armor at all. If you place all armor on the top the enemy will know to try to go beneath you, but then again your ships are more nimble because of this and means you can have more ships in your fleet.

Ship Systems such as crew allocations, power, weapon recharge and reloading are fully simulated and automated. Move ammunition closer to your missiles launchers and ensure faster reload times, but the enemy may see how fast your reloading and target weapons near your launchers.

Use these ships in your own missions, share them with your friends or keep your designs to yourself.
Newtonian Flight Physics
The inbuilt flight model calculates the thrusters to apply to go in a given direction and the counter thrust required to ensure target destinations are not overshot. This ensures ship motions are handled realistically as if its a real spaceship.

This can be taken advantage of in combat. If the enemy is circling you, attack those thrusters to ensure they can no longer do this.
Voxel Based Thermal Damage System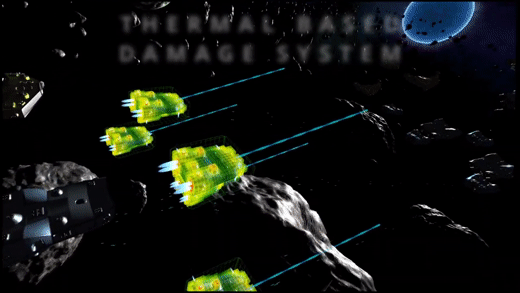 An advanced voxel (cube based) damage system overlays your ships where adjacent cubes transfer heat and damage is propagated.

This system ties into the ship systems, so when engines are active that part of the ship heats up. Running the Reactor at 100% may eventually lead to component overheating and even system shut down unless your ships are adequately cooled.

This model helps ensure ships have their advantages and disadvantages in design correctly modelled.
Create your Missions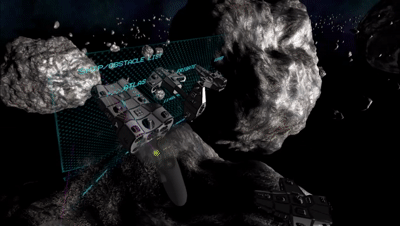 Create and Share missions and scenarios built using the VR Mission Builder.

Mission types such as destroy all, survival, reach target, guard target and more are supported. Player fleets can be preset or player defined with a mission mass limit.

Create the battles you want to fight.
Sistem Gereksinimleri
Yorumlar