Odd Guy Meets Odd Farmers - BL Yaoi Visual Novel
Fiyatlar
Fiyat Geçmişi
Oyun Hakkında
---

Odd Guy Meets Odd Farmers is BL game filled with comedy, friendship, and wholesome moments!
Torin is a gamer who locks himself in his room to play games all day. His mom, who is tired of his lifestyle, wants him to go outdoors and appreciate nature and hard labor. What's the solution to get Torin to experience all of the above? Send him to work temporarily on a friend's farm, of course! Upon arriving at the rural community, he meets some farmers who are very welcoming. But they're all quite...quirky.
What sort of wacky adventures awaits Torin on his trip to the rural community?
After making new friends and working together with them, maybe farm life and manual labor can be enjoyable.
Perhaps even romance might blossom...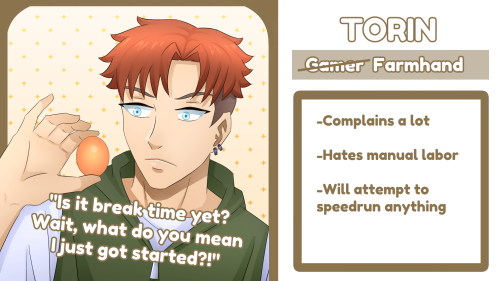 Torin just graduated, so he wants to enjoy his gap year playing video games all day. Too bad he can't now that he's working as a farmhand. Hardly a day goes by without him cursing.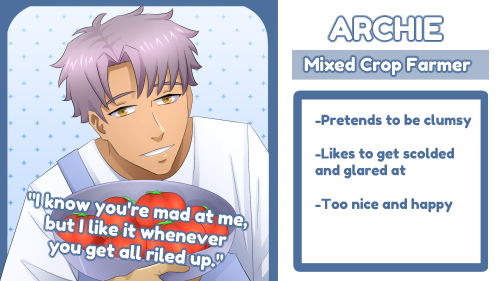 Archie grows various types of crops, and his dad raises livestock. Everyone thinks he's a sweet little farmer, so they're nice to him. But that could be further from what he actually wants. Archie yearns for someone to be mean to him. Someone to put him in his place.
Cam is a rice farmer. When his friends are busy, he plays with the kids instead, making him popular among them. He often overreacts and tells tall tales. Cam is on a quest to make rice the number one staple food all across the world.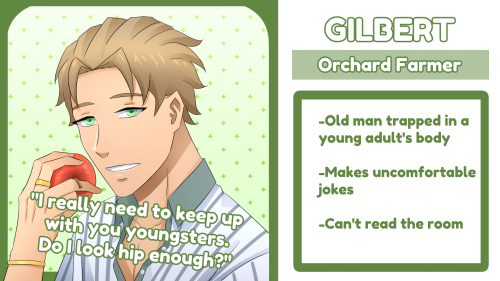 Gilbert is an orchard farmer. When his friends are busy, he hangs out with the elderly, making him copy their behavior. He behaves as if he's an old man whose youthful days are gone. Expect terrible dirty jokes from him.

- 43K words
- 4 endings
- 22 CGs
- Clicker mini-games
Music used from Dova Syndrome
Sound effects used from Zapsplat
Sistem Gereksinimleri
Yorumlar