Fiyatlar
Fiyat Geçmişi
Oyun Hakkında
---
A dark vision of the future where the human soul is used as drivers for deadly machines. Witnes how the killing machine deals with enemies and what deadly improvements you can implement to give opponents nightmares about your arrival.
Warning!
Early access gives you the opportunity to test the gameplay during a short "Machine Learning" training phase, which is completed with a stress test.
You will prove yourself in motor training, you will learn the basic skills and use of weapons. The stage is short, so the price of the game is much lower than it will be when the game is fully released. I create this game by myself after working hours, it's far from a full product and with early access I would like to check the feedback among players. I do not promise that I will be able to finish the title. It is a kind of technological demo and a test of my video game development skills. I am waiting for your opinions and ideas for the further development of the game.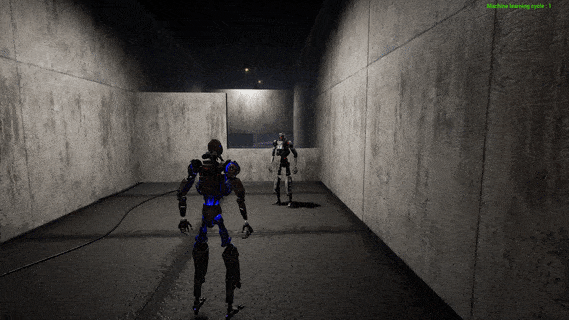 Evolving User Interface
Customize your UI to your needs! Implement upgrades that will help your playstyle and bring hell to your opponents! Choose from a variety of real combat enhancements and create your own style of sowing death. Opponents will turn into piles of torn meat or will not even notice what ended their lives? Make up your mind, it's your machine.
Guns, tools of death, a bazaar of pain
This rifle is only suitable for stationary use because of… BULLSHIT! You are a machine, use heavy equipment that grinds meat in a fraction of a second. Feel the power of large-caliber ammunition and aim with the precision of a computer calculating trajectories while admiring the satisfying ragdoll throwing the bodies of enemies.
A symphony of destruction
Blow holes in walls, knock over heavy elements of the environment and use the tactical advantage. If in a given situation it is difficult for you to see a tactical advantage, create it using the destruction of the environment strongly influencing the gameplay.
Corporate wars are not fun
Experience the future painted in dark colors where human life is cheaper than the most mediocre processors. Make an effort to regain your memories and maintain the fragile balance between the machine and your artificially extracted human mind.
Find out who's behind it all and get even. You have a body made to kill - there won't be better opportunity for revenge.
You can actively participate in the production process by submitting your ideas or comments on the dedicated discord channel:
https://discord.gg/NdDZTHAKJW
Sistem Gereksinimleri
Yorumlar