Curses of Tarot
Fiyatlar
Fiyat Geçmişi
Oyun Hakkında
---
Curses of Tarot
is a single-player poker and Tarot themed deckbuilding card game with a variety of play modes, mini-games and challenges.
Swap cards to create poker hands, plan your matches to clear each board, fortify your deck with glorious boons, break any curses inflicted upon you, and test your fate in a variety of special events!
"The night was dreary, and I had traveled far. Suddenly, through a gap in the trees I saw the warm glow of a campfire beside a covered wagon. Perched on the stoop, an old woman beckoned me inside, promising a chance to rest, and perhaps a glimpse of my future. Little did I know what she had in store...""You face a crossroads, traveler. Let us see just how fate judges thee!"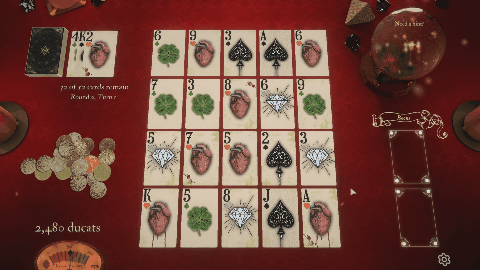 Game Modes:
Standard - the full game experience, including boons, curses and special events.

Endurance - how long can you last as your deck grows ever larger?

Timed - set a new high score in a casual, 10-minute game, perfect for coffee breaks.
Other Features:
Save your progress and resume a run at any time.

Gorgeous, procedurally generated card art.

Leaderboards for every game mode.

Steam achievements.

Colorfully detailed game board and event art.

Endless replay value.

Full widescreen and ultra-widescreen support.
Sistem Gereksinimleri
Yorumlar