ColorCube
Fiyatlar
Fiyat Geçmişi
Oyun Hakkında
---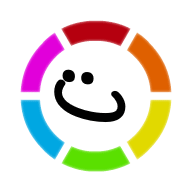 Welcome to this colorful world, there are 8 colors in this world: red, orange, yellow, green, blue, purple, black and white. Before playing, please make sure you can distinguish the different colors in the image above, if you can't, I don't recommend you play this game.
The world follows two basic rules
Rule 1:
There is no physical collision between objects of the same color! And you, as a visitor into this world, also have to follow this rule.
Rule 2:
Black color blocks all colors, including black color. White color can pass through all colors, but cannot pass black color!
These two laws constitute the basic logic of this world, and they make up the World-1.
In the World-2, I'll give you a wand which can paint and absorb color. This brings many interesting but difficult puzzles.
This game has three worlds and a total of 43 levels. But in order to pass this game,
you are not required to pass all levels. And the order of playing them is up to you
, you only need to complete enough levels in one world, then you can challenge the final-test level of this world, and after passing, you can enter the next world. In the final-test level of the last world, you will use your knowledge and skills to face the final boss.
The game has a
flashback
function. I will save your state after you paint or absorb color. You only need to press the flashback button to return to the previous state. You can press it unlimited times, so you don't have to worry about making mistakes.
Sistem Gereksinimleri
Yorumlar