Chicken Police
Fiyatlar
Fiyat Geçmişi
Oyun Hakkında
---
"She stood in the dark,
light painting stripes on her body.
And yet, I knew she was not a zebra…"
Chicken Police is an
"Animal Noir Adventure Game"
, with a carefully crafted world, a gritty, dark story, and absurd humor.
The game mixes elements of story-rich adventures with visual novel style dialogue-heavy storytelling, complete with a complex interrogation system, detective gameplay and a an ever-changing city.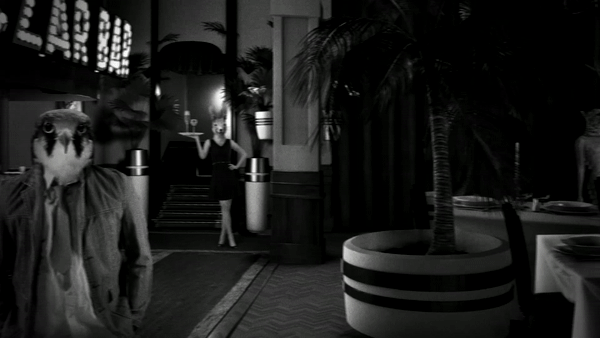 A mysterious Dame...
A strange case...
and the wildest cocks of the Wilderness!
MEET THE CHICKEN POLICE
Sonny Featherland and Marty B. Birden were once legendary detective partners in Clawville PD. Predatory division, nicknamed as the Chicken Police. But that was a decade ago and time had passed them by... Sonny is a semi-alcoholic wreck of a bird on paid leave, who spends his days in an abandoned hotel waiting for his retirement, while Marty hides behind the facade of a star-detective, slowly losing himself and his faith in the city he once loved so much. 
On the night of New Year's Eve, a mysterious woman visits Sonny with an errand which goes back to a dark corner of his past. Now, Sonny and Marty are back together again on a case stranger than anything they've ever encountered before!

NARRATIVE-DRIVEN, DETECTIVE GAMEPLAY
Chicken Police is a story- and dialogue-heavy game combining elements of the visual novel and classic adventure genres. There will be more than 30 characters to talk to, with some having to be seriously interrogated. Collect tons of clues, evidences and – mainly – very sensitive personal information from the shady characters of Clawville to be used ruthlessly against them!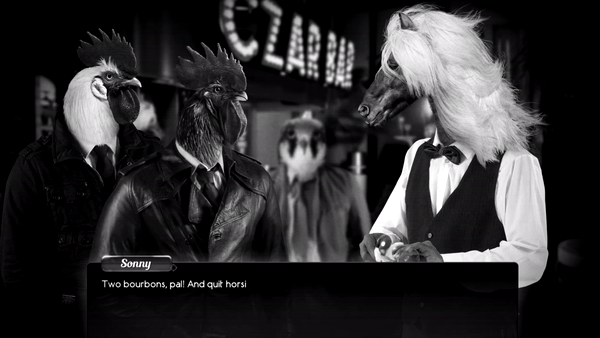 EXPLORE THE CITY OF CLAWVILLE (again, and again...)
There are more than 25 places to visit and all of them will change several times during the story. The player can return to previous locations at any time, to find hidden secrets, meet new characters or even uncover new story-arks!
A CINEMATIC EXPERIENCE
Chicken Police has a weirdly stunning visual style with photo-manipulation and photo-realistic 3D backgrounds, inspired by classic film-noir movies like The Big Sleep, Double Indemnity or Gilda and games like 
Grim Fandango
, 
Policenauts (and Snatcher)
, 
L.A.Noire
, 
Ace Attorney
 or the
 Tex Murphy series
. 
The noir mood is enhanced by a 
beautiful musical score
, backed up by 
professional voice acting
 for the perfect cinematic experience.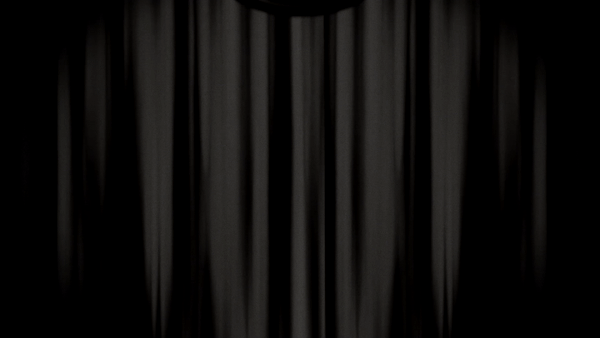 CLAWVILLE NEVER SLEEPS
"Clawville never sleeps - they say.
Yeah... maybe that's why it is so cranky all the time."
The city of CLAWVILLE was built as an Edenic place, where predator and prey can live in peace with each other. But obviously, the dream remained a dream and, in the end, Clawville became the most dangerous city in the Wilderness, where the predatorial crimes are commonplace and corruption is everywhere...
Chicken Police is a dark story and a satire, which recalls the mood and atmosphere of the 40's film-noir movies. And as the best noirs and hardboiled detective stories, it's so dark and gritty that it can only be served with a lot of cynical humor.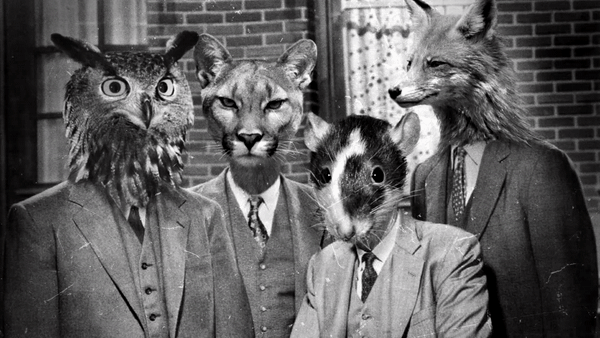 KEY FEATURES:
A thrilling, rich storyline

A unique, "colorful" world

A complex interrogation system

More than 30 characters to meet and 25 places to explore

Lots of optional and backtracking content

Lots of clues and collectibles

A cinematic film-noir like experience

Original soundtrack

Professional voiceacting

QUOTES ABOUT US

DESCTRUCTOID:
"I know I mostly cover animal-based games, but few have ever stopped me dead in my tracks like this one. I mean, did you hear that song in the trailer? That's original music, baby! I'm a sucker for games with quirky themes and original music, so of course I took notice to this one straight away. Mix that with the animals-as-people motif and spot-on detective visuals, and yeah I didn't really stand a chance."
ROCK PAPER SHOTGUN:
"Fortunately I'm batting my jet-lagged eyes at Chicken Police, an upcoming noir detective adventure with grizzled chickens and a very good raccoon. It's a point and clicker, which means I'll almost certainly never play it. But I'd still like you to revel in this trailer with me. It's a cinematographic masterpiece."
Sistem Gereksinimleri
Yorumlar
Copyright © 2018-2021 | BAYDİJİTAL | Tüm Hakları Saklıdır.