Alice in Wonderland Jigsaw Puzzle
Fiyatlar
Fiyat Geçmişi
Oyun Hakkında
---

"But I don't want to go among mad people," Alice remarked.
"Oh, you can't help that," said the Cat: "we're all mad here. I'm mad. You're mad."
"How do you know I'm mad?" said Alice.
"You must be," said the Cat, "or you wouldn't have come here."

Relive Alice's adventures in Wonderland with this beautifully illustrated jigsaw puzzle game.
Eight puzzles from easy to not-so-easy difficulty level. All in a beautifully illustrated flipping book.

For each completed level, you get a new card for your collection. You can see the card in the second page of the book. You can zoom into them and see them in details.

There are also trophies over the desk, outside the book.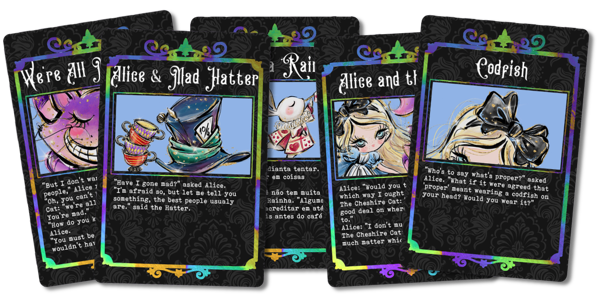 Use the mouse to drag and drop the jigsaw pieces onto the right place. When completed, flip the book to the next page and go on.
It's a short duration gameplay. You can complete all the puzzles in one hour or maybe a little less.
The illustrations in the book are shown in black and white and become colored as you complete the puzzles.
Could not complete a puzzle in time? In Settings, you can turn off the timer.

Sistem Gereksinimleri
Yorumlar